Smaller, faster and cost efficient
clinical trials
Is your company dealing with drug development or medical device development in the respiratory field?
Fluidda enables companies to go faster by optimizing test conditions
and relying on a huge worldwide database, collected over 15 years.
Take control of your drug delivery processes by efficiently evaluating every aerosol deposition scenario and simulating reality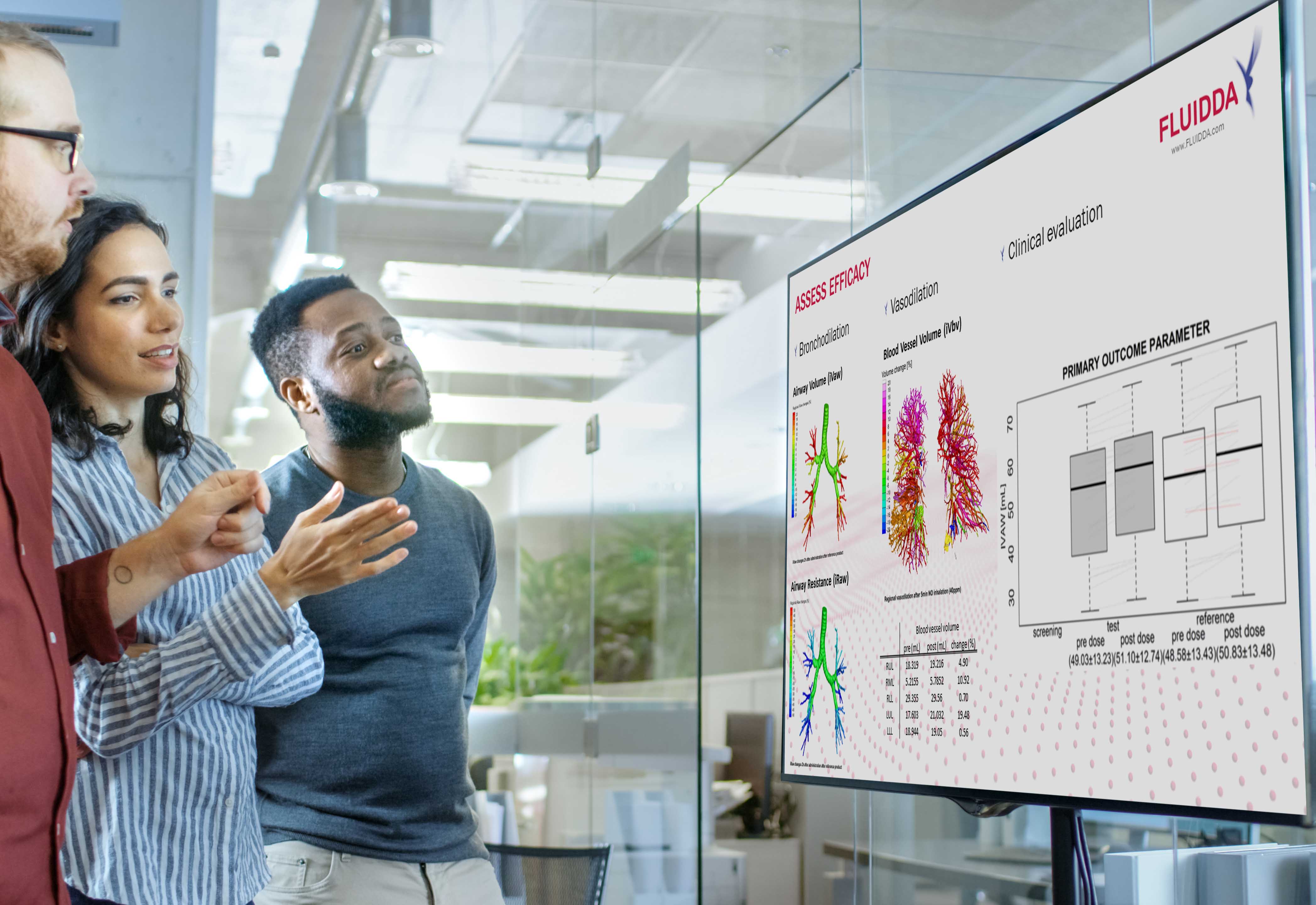 Describe your patients' lungs comprehensively. Characterize disease progression accurately. Analyze and monitor treatment or therapy efficiency in a fast and cost-beneficial way. Allow our state-of-the-art approach to bring your clinical trials into the twenty-first century.
3. Scientific
visualization
Translate complex scientific study results into intuitive and understandable visualizations to simplify your communication to all stakeholders.
FRI deposition is an in-silico technology to assess the transport of inhaled compounds in the respiratory system. It uses computational fluid dynamics calculations in combination with patient-specific airway and lung geometries to provide regional deposition metrics of aerosols and powders. It can be used to create insights in how a certain compound, delivered using a certain device, behaves in a certain patient population and how sensitive this behavior is to different variables. FRI's patient specific nature and core characteristics make it the ideal alternative to scintigraphy, providing similar results in a more time and cost-effective manner without the need of active patient recruitment.
Assess an infinity of different scenarios (including anatomic, physiologic, and physicochemical variables) in a fast and easy way​
Investigate various particle characterizations / disease populations / devices in a controlled environment
Assess in a very early stage the influence of disease on aerosol deposition​
Assess in an easy way how the aerosol deposition is influenced by the way the patient inhales
Fluidda's clinically proven Functional Respiratory Imaging (FRI) technology provides the industry with the most sensitive respiratory image-based biomarkers resulting in:
More detailed insights into lungs and airways in any respiratory disease with regard to exposure, structure and function, compared to conventional endpoints
Up to 16 times fewer patients required in clinical trials compared to conventional endpoints
Smaller clinical trials that are faster and more cost-efficient to establish significant results when compared to conventional endpoints.
Fluidda also provides you with contract research services as a one-stop-shop tailored to your needs in collaboration with dedicated partners.
By combining our sensitive image-based biomarker with extensive experience in the management of respiratory clinical trials, we can help you overcome your challenges:
detecting clinically relevant differences between therapies
the difficulty to obtain conclusive results in highly variable, less controllable real-life situations
improving the value proposition of your product
3. Scientific visualization
Scientific visualizations
put meaningful data with attractive visuals at the center of your communication and use actual scientific patient data that is intuitive to all your stakeholders. Overcome the difficulty of translating complicated, scientific study results into meaningful visualization through the use of FRI.
Get a better grasp on the numbers with clear, realistic visuals

Convince your stakeholders of study results by means of visualization, using real scientific data for individual patients

Prepare impressive promotional materials that are intuitive, meaningful, and scientifically correct

Combine any clinical trial using FRI directly with scientific marketing
CRO SERVICES FOR DRUG DEVELOPMENT & MEDICAL DEVICE DEVELOPMENT
Fluidda offers turnkey contract research services, in collaboration with their dedicated partners, to help clients manage their clinical trials for the development of a drug and/or medical device.
Fewer patients needed to obtain clinically significant results.
Smaller sample size in clinical trials leads to earlier " go to market".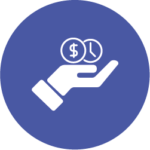 Smaller and faster clinical trials lead to reduction in time and expenses.
200
clinical trial hospitals
60
countries participating
De-risking clinical trials with FRI, an innovative technology leading to operational excellence 'Fluidda's state-of-the-art technology quantifies deposition regionally, and visualizes the lungs realistically.
Healthcare provider?
Fluidda assists radiologists and pneumologists to optimize the respiratory patient's treatment.
Discover our patented technology
FRI
FRI stands for Functional Respiratory Imaging. The FRI process consist of three phases. Want to learn more?
News & events
Want to follow our work? Read all about our latest news and events. Check out our social media.